P&I August 22, 2016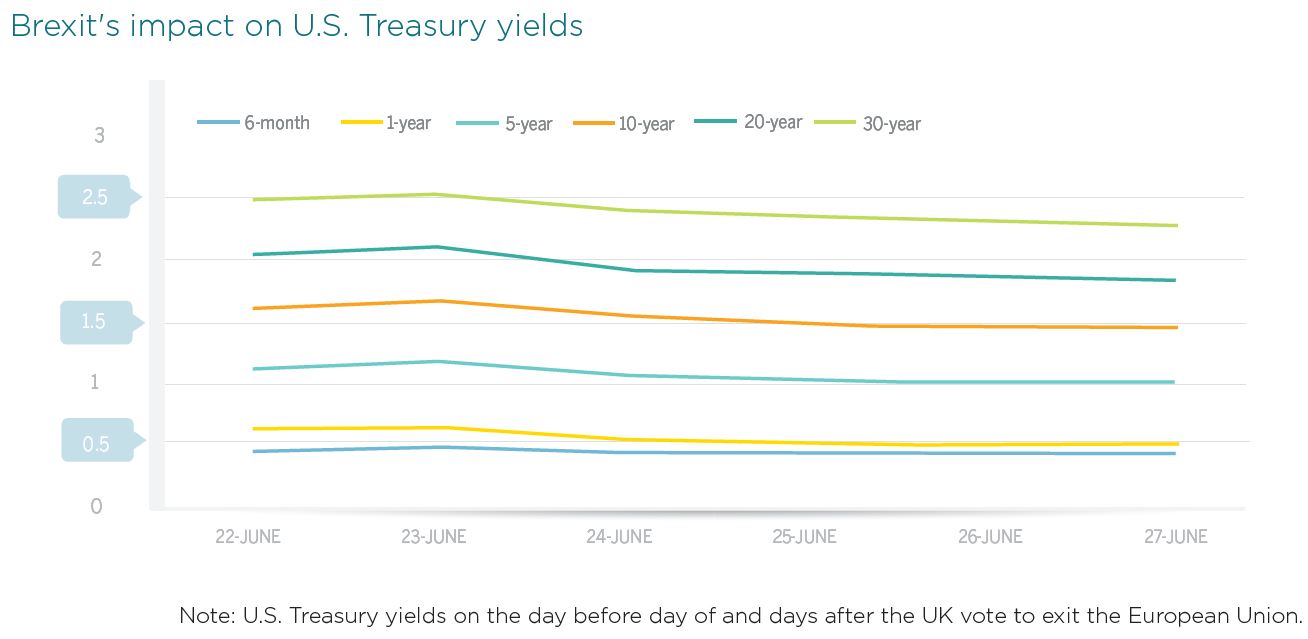 "In the liability matching mind-set, duration is absolutely critical." Matt Toms
Since the end of the global financial crisis, markets have been adapting to the actions of central bankers as they attempted to support global and domestic economies through storms of change. Quantitative easing programs — and their withdrawal in the U.S. — put all markets, but especially bond markets, through significant change. These exogenous drivers have meant that some familiar bond market tenets need to be retired.
Now with the surprise vote of the U.K. to leave the European Union, questions about political stability and economic growth across Europe have surfaced. In this uncharted territory, fixed-income investors are looking as much to politicians as to central bankers and economists for clues as to where to go from here.
"Unfortunately, because of Brexit and arguably the U.S. elections, we are forced to become more political experts than investment experts — and that's a challenge," said Nick Maroutsos, portfolio manager at Janus Capital Group.
Uncertainty and with it, volatility, has increased — in some cases dramatically.
"The major risks in the aftermath of the vote concern growth in the U.K., the EU and globally," said Rob Waldner, chief strategist and head of multi-sector at Invesco Fixed Income. "Both the European and global economies and markets face substantial uncertainty, arising from political shifts as much as from fundamental economic or financial challenges."
Political winds of change are evident in many countries. "Brexit is the most visible sign of a general populist push in global politics," said Matt Toms, head of public fixed income at Voya Investment Management. "That push can be framed as a frustration and disenchantment with the system, as easily framed in the U.S. as it is with Brexit."
That frustration presents a problem for investment managers, who are more used to analyzing data than thinking about how emotions and perceptions shape markets.
Toms continued: "The populist push reflects a belief that income distribution has been unfair and that globalization has left the average worker disadvantaged. The real concern about Brexit is what happens in Europe. If it does cause an existential debate about Europe and the EU, that could darken the global growth outlook for years."
For many fixed-income managers, this worry about the European Union and its future is most concerning. If the European single-market experiment were to fragment, the political and economic uncertainty would be far-reaching, well beyond what has been felt with Brexit. At the moment, it appears that global capital markets have digested the exit of the U.K. from the EU without huge consequences.
Not surprisingly, fixed-income managers are focusing on safe havens, capital preservation and generally more conservative investment approaches. That said, longer-term outlooks haven't changed that much.
"The Brexit vote brings near-term downside risk to British growth, but does not fundamentally change the broader investment outlook," said Voya's Toms. "What it does highlight is the risk of further fragmentation within the eurozone, which makes the outlook for European growth incrementally less attractive relative to global alternatives heading into 2017. This reinforces our current U.S.-centric risk stance in our portfolios."
Indeed, the U.S. bond market looks attractive to many managers.
"The economic backdrop here has been more benign compared to other regions globally," said Jesse Fogarty, senior portfolio manager at Insight Investment. "Political and economic uncertainty elsewhere will likely increase the appeal of U.S. safe-haven assets such as U.S. Treasuries, which offer a higher absolute yield relative to European and Japanese government bonds."
Even though politics has taken center stage in 2016, central bank policy is still the main driver of bond market activity. "The Federal Reserve is maintaining a wait-and-see approach in the wake of Brexit and with the upcoming U.S. elections," said Janus' Maroutsos. "There has been a dovish response to all global headwinds and as a result there seems to be no sense of urgency from the Fed to push rates higher."
The Fed has backed off from its original indication that it would raise rates four times this year and is focused on maximizing employment and price stability (i.e., achieving an inflation target). Though a rebound in the price of oil has helped U.S. manufacturing, the Fed remains dovish against the accommodative monetary policies of the European Central Bank, the People's Bank of China and the Bank of Japan.
For U.S. investors though, all eyes still remain on the Fed.
"We see the market expecting the Fed and other central banks to immunize returns and portfolios against macroeconomic global shocks," said Gregory Peters, managing director and senior investment officer at Prudential Fixed Income. "That has the effect of magnifying the consequences of any movement and increasing volatility."
As far as additional rate hikes go, chances are slim for this year.
"We think that the Fed will be much slower and more cautious than we have seen in the past," said Invesco's Waldner. "We would not expect many rate hikes in the cycle. They've done one, but we're certainly not going to get another one this summer."
But while central bank activity has been the largest driver of bond returns dating back to 2008, strategists agree that time is over.
"We think that the influence of central banks is now in decline," said Voya's Toms. "With ECB at negative rates, the 10-year bund at negative 10 basis points, and Japanese government bonds negative all the way out to 10 years as well, we would say that the BOJ and ECB are out of bullets. Monetary policy has run its course. Arguably any activity they do now will infuse the market with more volatility rather than support or a clear direction."
The incapacity of some central banks worries some bond managers.
"We are concerned about the potential for monetary policy to lose efficacy, which could cause additional volatility in the markets," said Insight Investment's Fogarty. "We believe a significant driver of the volatility in the first quarter was the decision by the BOJ to cut rates into negative territory, which contrary to intentions has caused the yen to rally — a sign that markets are disenchanted with such policies.Negative rates are effectively a tax on the banks, which could further slow lending growth and by extension economic activity. The perversity of negative rates is when you earn nothing you must save everything."
Although money managers are — relatively speaking — attracted to U.S. bonds, the depth of fixed-income market liquidity is a major concern, given the potential volatility.
"Because of the uncertainty in the markets, retail investors are looking to be tactical, but are concerned about liquidity — specifically, investors who do not have a long-term strategic need for fixed income may be considering the timing, if the need arises, of moving out of fixed income in the future," said Richard Piccirillo, principal and senior portfolio manager for Prudential Fixed Income. "Either they are worried about an eventual rise in rates or they're worried about the credit cycle. So liquidity is a concern because they are thinking about their exit point and how costly it may be."
Managers are also worried about the potential for the yield curve to flatten.
"While the ECB and BOJ are out of bullets, the Fed and the Bank of China aren't. We think the Fed will move quite slowly," said Voya's Toms. "Ultimately the only path for the Fed is to allow the bond market to lead the pace of rate hiking. And we think the Fed will be very careful not to allow the yield curve to flatten. That would cause concern."
Negative government bond yields are taking fixed-income investors out of their comfort zones.
"Even though the U.S. bond market is in relatively decent shape," Toms added, "it's still at an absolute level of very low yield. The Barclays Agg is yielding below 2%. That means it is difficult to achieve the income levels that have been historically assumed. And so investors are reconsidering how fixed income is used within a portfolio."
Fixed income was once the conservative bulwark, the income cushion that investors relied on to counterbalance riskier assets. That may not be the case going forward.
"We think investors are going to need to reset their return expectations," said Maroutsos at Janus. "Fixed income investors have benefited from yields rallying and credit spread contraction for the last 30-plus years. The 7% or 8% of recent years will be nearly impossible to achieve going forward."
For many years, investors have hung onto the idea that rates would rise. The aftermath of Brexit underscores the difficulty of this position. Many managers are now suggesting that in an environment of long-term lower growth forecasts, investors would be best served to look to the level of rates today and avoid projecting into the future.
"Investors that may have gone to floating-rate strategies or others designed to benefit from rising rates have made a mistake," said Invesco's Waldner. "You can actually get some benefit from term structure — from taking on some duration."
Some managers point to a dichotomy among investors when it comes to duration. Investors have different goals. Pension plans that hope to immunize their liabilities by matching their assets specifically to liability cash flows see duration as a necessary and positive boon. But for those with a total or absolute return focus, duration can be more of a double-edged sword.
Said Voya's Toms: "In the liability-matching mind-set, duration is absolutely critical. For total return-seeking investors, there's a constant fear of duration and it needs to be avoided at all costs."
Duration plays a part in capital preservation, a particular focus for investors in times of uncertainty.
"Duration in and of itself is a very low information ratio trade," said Janus' Maroutsos. "Trying to predict rates on a day-to-day basis is a fool's game, but by focusing on good quality names, you can still inject a decent return into your portfolio with low volatility. But this needs to be balanced carefully with the overall risk/return characteristics of the portfolio. Investors do not want to be in a position where interest rate risk is replaced with credit risk. Government bond duration is the only thing that is going to provide you with any sort of protection should things turn sour."
"In the past, investors could count on capital appreciation to boost their total return in fixed income," said Soonyong Park, senior managing director and chief institutional client strategist at Janus Capital Institutional. "That cannot be the case going forward because if the secular rally in duration is coming to an end and interest rates remain low for longer or begin to rise gradually then - by definition — carry, not capital appreciation, will drive future fixed income portfolio returns." •